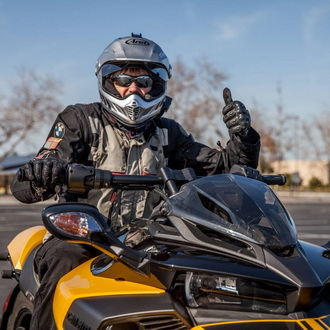 4-hour introduction to 3-wheel class
If you are interested in experiencing a Can-Am Spyder or Ryker for the first time, want to know more about the handling differences between a 2-wheel and 3-wheel vehicle, or you already ride a 3-wheeler but have never had formal instruction or information about the dynamics of the Vehicle Stability System (VSS) and/or tested the ABS limits then this class is for you!
Certified instructors will share their expertise for you to receive the training fundamentals required to safely and successfully ride your 3-wheel motorcycle and/or Can-Am. A Can-Am On-Road model will be provided for the duration of the course at no extra cost.
Theoretical and practice worth months of riding
Your day begins in the classroom learning the skills required to ride a 3-wheel vehicle and the dynamics of the Can-Am vehicles. We will explore in-depth the techniques for managing the risks of riding an open air vehicle on the road and the unique technology built into the Can-Am vehicles. The information and pace is suitable for 1st time riders even if you've never ridden a bike or trike before.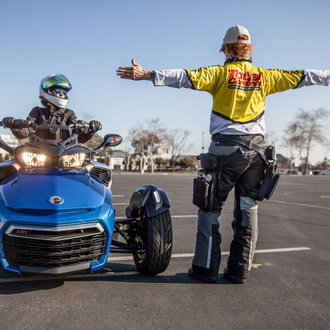 Then we will follow a series of range exercises designed to build your confidence and skill as we progress from basic maneuvers to techniques you can use on the street.
Course requirements
A current driver's license (car) from any state.
Helmet 3/4 or full face style (we can provide if needed).
Eye protection (face shield, glasses or sunglasses).
Long sleeve shirt or jacket, long pants with no holes or tears.
Boots or sturdy over-the-ankle footwear.
Full-fingered gloves (leather or motorcycle specific).
SUGGESTED: Water, snacks, hat, sunscreen, etc.
Course cost
$49
Next available classes: