Join our Team of Riding Instructors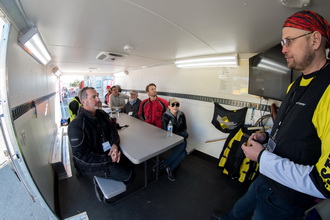 We are looking for experienced riders who have a sincere desire to help others learn to ride and enhance their riding skills.
We provide industry-leading motorcycle safety training across Southern California. Instructor candidates must be able to speak in front of a group, demonstrate exercises, and properly coach students to pass instructor training. Good people skills and customer service skills are essential. Our instructors receive competitive pay and tremendous satisfaction from sharing the joy of motorcycling with prospective riders. Flexible hours, locations and schedules. Once the certification to teach our basic courses is attained, intermediate, advanced certifications can be pursued.
Candidates interested in becoming an instructor must possess the following qualifications:
Prior teaching experience is desirable, but not required.
Must be 18 years of age or older and possess a valid Class M1 endorsement.
Must currently own and operate a motorcycle on a routine basis.
Must have a minimum of 10,000 miles of motorcycle riding experience.
Must have no criminal history and a clean driving record. The criminal history and driving record must reflect that within the last five years the applicant did not have any problems with violence, major traffic violations, or driverís license suspensions. In addition, within the last seven years, an applicant cannot have any driverís license revocations or alcohol related driving convictions.
Must possess excellent communication and customer service skills.
Must have a sincere desire to help reduce motorcycle crashes, injuries, and deaths.