Basic Course Requirements
To enroll, you must call our office to get a reservation or use our online registration at each location's page. Please have the following information ready if you are calling to sign-up or using the web-form:
Name, address and daytime phone.
Driver's license number, state and expiration date, permit, or any Government issued ID with expiration date. (We will not accept licenses, permits or ID's which expire prior to class start date!)
Date of birth.
Class schedule you prefer.
We will email you a confirmation of your reservation which has all the details on location, hours, and what you need to bring with you. There is a required waiver form and no guarantee of graduation.
Required safety gear during the riding portion of the course:
A full or 3/4 face DOT-compliant helmet.
Sturdy over the ankle boots of leather or equivalent (think hiking boots).
Full-fingered 100% leather gloves OR street motorcycle-specific gloves, no cut-off fingers & no holes.
Long pants, preferably jeans — no holes, no sweats, no leggings.
Long sleeve t-shirt or jacket. Arms and legs must be fully covered at all times.
Shatter-proof face shield, goggles, prescription glasses or sunglasses for eye protection (or helmets have face shields).
Snacks & water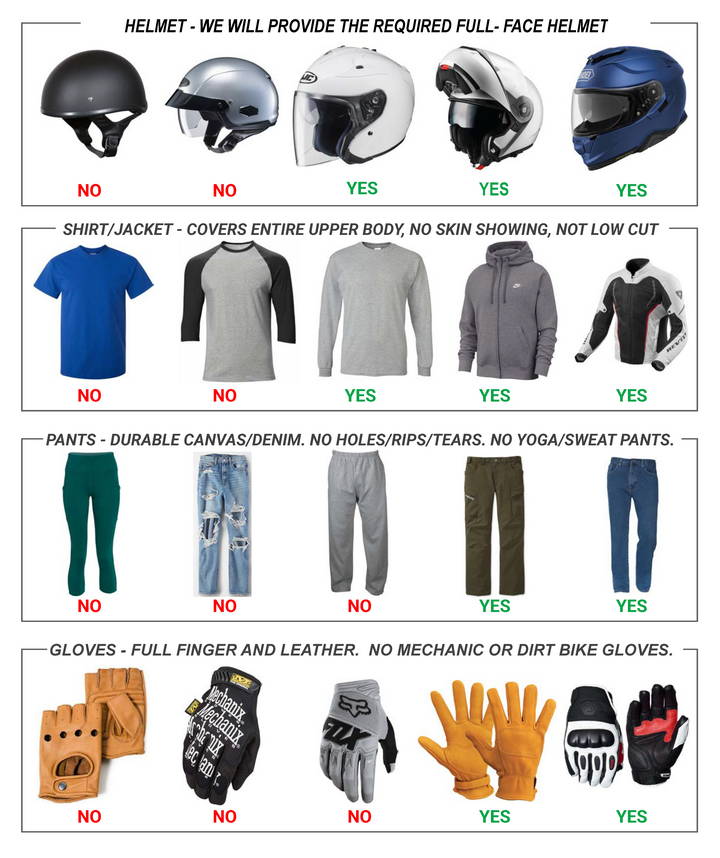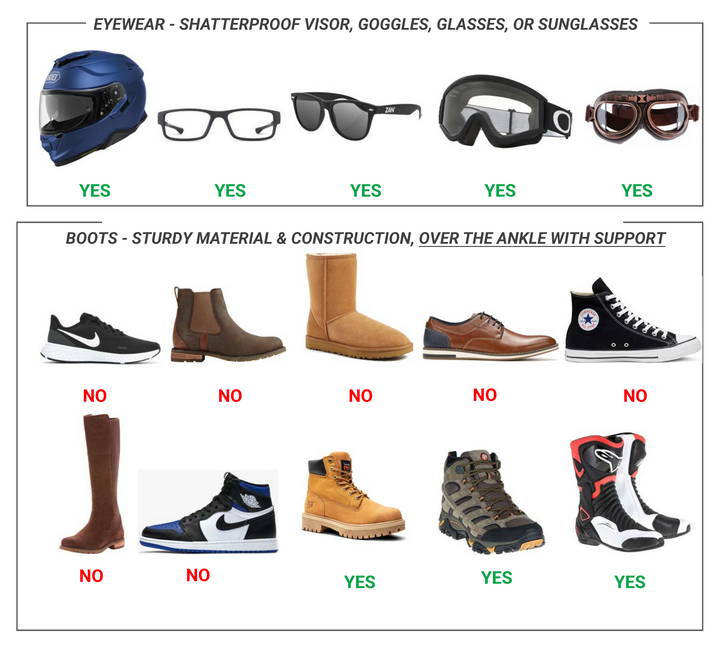 IMPORTANT:
We have limited seating in each class.
Without receiving your payment when you sign up, your seat will automatically be canceled! Please contact the office for other payment arrangements.
When we receive payment, we will email you a confirmation of your reservation which has all the details on location, your hours and what you need to bring with you.
Our class sessions start promptly! Don't get locked-out.
Students are not allowed to miss any of the instruction. If a student arrives late, or misses a session, they would have to pay for another class. MAKE SURE YOUR SCHEDULE IS CLEAR BEFORE YOU SIGN-UP. THERE IS NO RESCHEDULING AND THERE ARE NO REFUNDS.
There is a required waiver form and no guarantee of graduation.
Our office hours are 9:00 am - 5:00 pm, Monday - Friday.
Basic Course Frequently Asked Questions
What is your class schedule?
We have a number of classes available, both during the week and on the weekends, depending on the location you choose.
The course consists of 16 hrs. You will do a 3-hour session in the classroom, then do 5 hours of on Motorcycle Training. Then you will go back and do another 3-hour session in the classroom and another 5 hours of on Motorcycle Training.
Can I be put on stand-by to get into an earlier class?
Yes, you can be placed on stand-by for any class. You must call the office to be put on the stand-by roster. You will be told to go to the first classroom session. If an enrolled student is late or does not show up, individuals from the stand-by roster are able to fill the spot.
How much does it cost?
21 and older: $425.00
At least 15 years 6 months and younger than 21 years old: $395.00
What do I need to bring to the classroom?
For the classroom session you need to bring:
A valid Government-issued photo id (Such as automobile license, CA state ID, passport, or auto/motorcycle permit).
A pen and glasses if you need them for viewing slides, video monitors and/or paperwork.
If you are under 18 years old, you will also need to bring a parent or guardian to the beginning of the class to sign a waiver.
Do you supply motorcycles?
Yes, we do provide motorcycles for the Beginner Motorcycle Training Course.
Do I need a helmet?
We have helmets if you need one. You are free to bring your own helmet. It must meet DOT standards. We require full face or 3/4 helmets only, no half helmets! You will also need eye protection if your helmet does not have a visor.
Do I get a copy of the Rider's Workbook?
Yes, you will be given a copy at the first class session, which is yours to keep, take notes, etc. You will also receive a link to the Student Handbook and DMV Motorcycle Handbook.
How old do I have to be to learn to ride?
You must be at least 15 years 6 months old. You must also:
Be in good health.
Be able to ride a bicycle.
Must have a government-issued ID. Any person under 18 must also have a parent or legal guardian come with them to the first class and sign a waiver.
What size bikes do you use?
We use 125 cc up to 310 cc training motorcycles. We have Honda Rebel, Suzuki GZ, Kawasaki Eliminator, BMW GS and Suzuki DR motorcycles.
Do I have to be a certain height?
We have no minimum height restrictions. However, riders are required to be able to touch both feet to the ground while straddling the motorcycle. Riders must also be able to hold the bike up when stopping or walking the motorcycle. We have motorcycles of various sizes if you have concerns, please call the office.
Can I ride my own bike (or scooter)?
Students can use their own motorcycle/scooter, as long as it is 350 cc or less. Current motorcycle permit, registration and proof of insurance (minimum required by law) will need to be provided prior to riding on the range. The motorcycle/scooter must also be in mechanically sound condition and will be inspected at the beginning of the riding day.
If I change my mind, can I get my money back?
Ride Rite Motorcycle Training enrollment fees are non-refundable for any reason. You can drop your enrollment in a class and become a stand-by Student for up to 3 months. Stand-by does not guarantee your seat. Last minute cancellations will result in a $125.00 reschedule fee.
What happens if I'm late or don't show for a class?
Classes start promptly! This is a state program and students are not allowed to arrive late. If you were to arrive late or miss a session you will be asked to leave the program. If you are late or a no show you will be charged a fee of $125.00 and you will come back as a standby. We highly recommend you arrive 30 minutes prior to designated start time.
Is this a certified course? How do I receive a certificate for the DMV?
This course is certified with the California Motorcyclist Safety Program. You will receive a DL-389 certificate in the mail about a week after your class. You must take the certificate with you to the DMV to earn your license. Neither passing nor getting licensed is guaranteed. This certificate is only good for one year from the date you pass the course. After one year, the certificate is expired and will no longer be accepted by the DMV.
Will I have to go to the DMV for my license after I pass?
Yes, upon successful completion of the class, you will be mailed a DL389 certificate, you will take that to the DMV and it may waive the skills test but you are required to take their written test. Neither passing nor getting licensed is guaranteed.
Can I take the course with an out of state or international driver's license?
Yes. As long as you have a valid government-issued photo ID. However, not all states recognize the California completion certificate for the issuing of the motorcycle endorsement. Check with your state's DMV regarding the required certification.
Do some companies reimburse you for classes?
Yes, some dealerships and bike manufacturers may offer a rebate program to encourage you to take the safety course. Once you complete our course, you are issued a completion card and a DL389. A copy of your completion card serves as proof of registration in our course.
How about discounts on insurance?
Many insurance companies offer a discount for successful completion of the course. Your Completion card will serve as proof of completion. Please check with your insurance company to see if they honor this.
How long do I have to get my license from DMV?
The DMV will only accept the DL389 certificate within 12 months after it is issued. After 12 months, the DL389 certificate becomes null and void.
How long do I have to complete the course?
You have 60 days from the date you start your class to complete this course. After 60 days you will have to start over and pay the fee again.
Do I need to take the written permit test before taking this course?
You do not need to take the written motorcycle permit test prior to taking this course. If you are 21 or under, you won't be able to take the written permit test prior to taking this course.